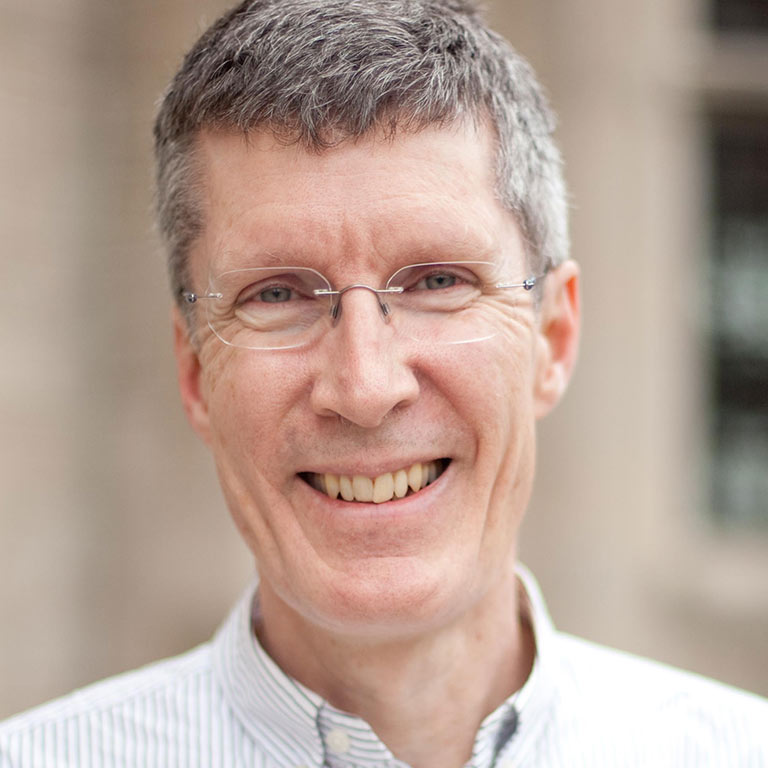 Kenneth Mackie
Distinguished Professor, Psychological and Brain Sciences
Jack and Linda Gill Chair, Gill Center for Biomolecular Science
kmackie@indiana.edu

Multidisciplinary Science Building II 120
Office Hours
Education
M.D., Yale University, 1984
ScB, Engineering, Brown University, 1980
Research Topics
Regulation of CB1 cannabinoid receptor signaling
Regulation of endocannabinoid production
Role of endocannabinoids in synaptic plasticity
Novel cannabinoid receptors
Research Summary
The Mackie lab examines the role and function of the endocannabinoid system by using a combination of electrophysiological, imaging, biochemical and immunological approaches. The endocannabinoid system is comprised of cannabinoid receptors, endogenous cannabinoids (endocannabinoids), and the enzymes that regulate the production and degradation of endocannabinoids. ?9THC, the principal psychoactive component of cannabis, interacts with this system to produce the classic effects of cannabis intoxication. In addition, this system is widely involved in multiple physiologically important processes including memory, motivation, movement, analgesia, and emesis. Through our studies, we hope to better understand the implications of social and therapeutic use of drugs that influence this fascinating system.
Representative Publications
Lin, X., Z. Xu, L. Carey, J. Romero, A. Makriyannis, C.J. Hillard, E. Ruggiero, M. Dockum, G. Houk, K. Mackie, P.J. Albrecht, F.L. Rice, and A.G. Hohmann, A peripheral CB2 cannabinoid receptor mechanism suppresses chemotherapy-induced peripheral neuropathy: evidence from a CB2 reporter mouse. Pain, 2022. 163(5): p. 834-851.
Ao, Z., H. Cai, Z. Wu, J. Krzesniak, C. Tian, Y.Y. Lai, K. Mackie, and F. Guo, Human Spinal Organoid-on-a-Chip to Model Nociceptive Circuitry for Pain Therapeutics Discovery. Anal Chem, 2022. 94(2): p. 1365-1372.
Lee, M.T., K. Mackie, and L.C. Chiou, Alternative pain management via endocannabinoids in the time of the opioid epidemic: Peripheral neuromodulation and pharmacological interventions. Br J Pharmacol, 2021.
Straiker, A., S. Wilson, W. Corey, M. Dvorakova, T. Bosquez, J. Tracey, C. Wilkowski, K. Ho, J. Wager-Miller, and K. Mackie, An Evaluation of Understudied Phytocannabinoids and Their Effects in Two Neuronal Models. Molecules, 2021. 26(17).
Lu, H.C. and K. Mackie, Review of the Endocannabinoid System. Biol Psychiatry Cogn Neurosci Neuroimaging, 2021. 6(6): p. 607-615.
Chen, H.T. and K. Mackie, Adolescent Delta(9)-Tetrahydrocannabinol Exposure Selectively Impairs Working Memory but Not Several Other mPFC-Mediated Behaviors. Front Psychiatry, 2020. 11: p. 576214.
Laszlo, Z.I., Z. Lele, M. Zoldi, V. Miczan, F. Mogor, G.M. Simon, K. Mackie, I. Kacskovics, B.F. Cravatt, and I. Katona, ABHD4-dependent developmental anoikis safeguards the embryonic brain. Nat Commun, 2020. 11(1): p. 4363.
Ao, Z., H. Cai, D.J. Havert, Z. Wu, Z. Gong, J.M. Beggs, K. Mackie, and F. Guo, One-Stop Microfluidic Assembly of Human Brain Organoids To Model Prenatal Cannabis Exposure. Anal Chem, 2020. 92(6): p. 4630-4638.
Straiker, A., M. Dvorakova, A. Zimmowitch, and K. Mackie, Cannabidiol Inhibits Endocannabinoid Signaling in Autaptic Hippocampal Neurons. Mol Pharmacol, 2018. 94(1): p. 743-748.
Lin, X., A.S. Dhopeshwarkar, M. Huibregtse, K. Mackie, and A.G. Hohmann, Slowly Signaling G Protein-Biased CB2 Cannabinoid Receptor Agonist LY2828360 Suppresses Neuropathic Pain with Sustained Efficacy and Attenuates Morphine Tolerance and Dependence. Mol Pharmacol, 2018. 93(2): p. 49-62.